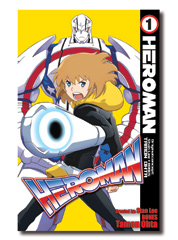 From the mind of the biggest name in western comics, Stan Lee, comes this exciting tale of east-meets-west robot versus alien action! Heroman, the story of a boy trying to discover his self-worth and his robot ally fighting to keep his loved ones safe from spirits, aliens, and whatever other foes may threaten the day.  A cross between traditional superhero comic books and Japanese giant robot science-fiction, Heroman brings an exciting cultural blend to the cookie-cutter world of shonen manga.
Joey Jones and, due to a Peter Parker-esque freak accident, second-hand toy turned superhero robot Heroman come together to form what on paper appears to be an old couple of sorts when considering the world of western superheroes. Nevertheless, in this first volume alone, they not only fight off an ancient demon spirit, but a several insect alien invaders hell bent on taking over the earth. In between the gripping not-so-giant robot action, Joey is trying to figure out what it means to be a hero and if he can be one alongside his trusted companion HM. But he'll have to figure it out before the impending alien invasion launches in full force.
Set in the non-specific American town Central City, Heroman is filled with distinct characters, pulsating action, and enough shonen fury to fight off any opposing force.
A unique combination of top creative talent from both the east and the west, Heroman promises excitement, adventure, and enough action that a boy and his half super-hero half giant robot could handle.