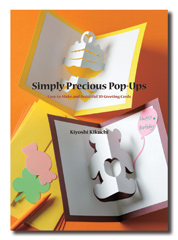 Nothing says you care more than a card or gift you've made yourself.  And since so many different special occasions occur in the Spring and Summer, now is the perfect time to pick up a pair of scissors and begin creating personal, one-of-a-kind expressions of your feelings. In Vertical's latest crafting book, Simply Precious Pop-Ups, author Kiyoshi Kikuchi offers all the practical tips and inspiration you'll need to make delightful 3D greeting cards.
For Mother's Day (May 12), there's a bevy of beautiful bouquets, from tulips and violets, to daisies and carnations (pp. 4,5,13) On Father's Day (June 16), tell Dad he's your Hero (p. 8) and give him the Golf Clubs he's been coveting (p. 13). Welcome Summer on June 21, with a delicate Butterfly or a cool cup of Italian Ices (p. 16). Reward your champion Little Leaguer with a well-deserved trophy (p. 31) and lift a Glass of Wine (p. 6) in a toast to the new graduate. And for recent graduates lucky enough to land that first job, show them how to start off in style:  Women's Jacket and Men's Suit (p. 12). All those June brides will fall in love with the Wedding Dress and charming Dove and Olive Branch cards (p. 9). And send the happy couple on their Honeymoon (or wish your BFF bon voyage) on an airplane soaring above the clouds (p.9).
Simply Precious Pop-Ups gives you suggestions for cards that mark memorable events all through the year including birthdays and anniversaries, Valentine's Day, Christmas, Halloween, the arrival of a new baby, or just letting someone know you're thinking of him. And with Kikuchi's easy-to-follow instructions and information about tools, materials, patterns, etc., these 3D cards are as much fun to create as they are  satisfying to send.
"Simply Precious Pop-ups is a new book filled with loads of fun do-it-yourself pop up cards. . . Since my dad loves to golf and Father's Day is coming up soon I decided to try out the golf bag card. The instructions were easy to follow and the card was quick to make. I needed only a few simple supplies, two ½ sheets of paper, a small pair of sharp scissors and a stylus for scoring. I think my dad will love it!" —CraftGossip.com