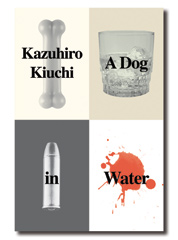 The term "hardboiled" is used to describe a subgenre of detective fiction that typically incorporates graphic sex and violence, an urban setting, and fast-paced, slangy dialogue. The stories feature a protagonist who is a cynical, unsentimental detective, although sometimes he's got a well-hidden soft spot for a pretty dame. The great American writer Dashiell Hammett is credited with inventing the genre in the late 1920's, and it's most frequently associated with American crime novels by the likes of  James M. Cain and Raymond Chandler.
But, as Kazuhiro Kiuchi proves in A Dog in Water, hardboiled detective fiction seamlessly makes the jump to Japan.  Kiuchi's new novel has the taut pacing,  raw narrative, and tough-guy P.I. that tag it as a classic of the genre. The Detective (who is never named) is an antihero for today's world, with his own version of a moral compass that keeps him on track as he takes on the Yakuza, gun dealers, sleazy nightclub owners, and other unsavory denizens of Tokyo's back alleys and smoke-filled joints.
The wild ride begins when a beautiful bar hostess, calling herself Junko Tajima, hires the Detective to help her deal with her married lover's violent brother. Following a trail that starts with Junko's tale of sexual assault, the Detective discovers that the story gets only murkier as he keeps looking for clarity. People are not whom they say they are and not what they seem. Are the victims really the victims—and if the bad guys are really all bad, why is the Detective sometimes on the same team?
Dark, disturbing, brutal, A Dog in Water is the kind of novel that shows you the nastiest side of life, and then reminds you that it's still possible to hold on to some shred of humanity in the face of it.