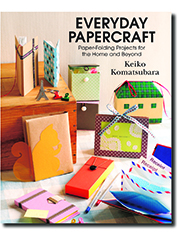 It's never too early to think about creating special, handcrafted gifts for those special people on your list. Everyday Papercraft, the follow-up to Vertical's popular Practical Origami, is just what you need  to kick-start your pre-holiday crafting frenzy.
This lively, colorful volume features 48 useful, visually appealing, and eco-friendly paper-folding projects, with detailed instructions and easy-to-follow diagrams. And you don't have to be an accomplished origamist to produce these pieces. While some projects rely on relatively simple origami techniques, many others require only basic cutting, gluing, threading, and tying skills—plus your unlimited imagination.
The book begins by explaining the necessary material and tools. In addition to using sheets of colored paper and posterboards, you'll find out how to re-purpose and incorporate items you have on hand, like envelopes, paperclips, buttons, sticky-notes, and hair elastics.
The projects range from accessories to help get organized (elegant Pen Cases, a Receipt Case that looks like a designer handbag, a Clip Box, Memo Stands, and a functional, yet adorable, Card Case), to objects that brighten up the home: Photo Frames that fold up into their own gift boxes, cute Cubes in which to store anything from candy to love notes, and a Pocket Tissue Box. Here, too, are suggestions for creating boxes and bags that let you present your gifts in style.  The beautiful color photos showcase the finished projects and provide inspiration for choosing papers and embellishments.
So don't spend hours scouring the stores for the perfect gift to express how you feel. Have the fun and satisfaction of making it yourself, and make it a holiday to remember for someone you love.