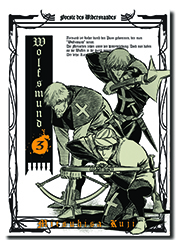 As the arctic vortex continues to loom heavily over most of North America this winter, many of us should be thankful we have it somewhat better than the cast of Mitsuhisa Kuji's historical fantasy Wolfsmund. If previous volumes have been an indication for what is in store for the rest of this series, things are quite bleak in the Swiss Alps. With the Wolf's Maw leading a cold war against the Alpine Cantons, hearts and economies are in desperate need of thawing.
Yet even with Bailiff Wolfram's smile haunting the cast's dreams, somehow, In the third volume of Wolfsmund hope is in the air. The time has come. The Cantons are now ready to take back what was taken from them. And they will be undertaking all this from all imaginable fronts. And Kuji goes through tremendous lengths to present the vanguard in a bright light.
Now this would not be Wolfsmund if everything came up roses, would it? I doubt Kuji's mentor, Kentaro Miura, or their collective fans would appreciate taking such simple measures. So there will be a bit of heartbreak to endure. But what does change for the positive is an outlook that is not as oppressive. Instead, what we get to witness is revolution…manga style!