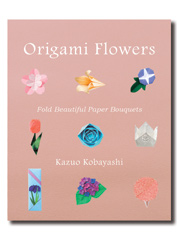 It's February and winter's darkest days are now behind us. Furthermore, in a matter of weeks, chocolates and gifts wrapped in red will begin to thaw out hearts across the globe, guiding them towards the spring and warmer times.
Vertical is not immune to the Valentine's bug. Just in time for St. Valentine's Day is our latest paper craft release, Origami Flowers. This collection of paper-folding patterns was created with the seasons in mind. Dozens of patterns will instruct
Compiled by Kazuo Kobayashi, the Director of the Ochanomizu Origami Kaikan a registered non-profit organization dedicated to the growth of origami in Japan, Origami Flowers brings paper flowers to life in very unique and creative ways. These flowers are not your simple origami patterns with pointed edges and sharp lines; Origami Flowers features patterns that look and feel like flowers grown in your garden. Rounded rose petals, soft delicate curves on chrysanthemum and tulips, and cup like tulips are just a few designs present. Furthermore, Vertical's release comes with eight sheets of origami paper to test out these budding projects.
So ignore the groundhog this February, and bring spring to your home with the colorful and beautiful paper bouquets of Origami Flowers!