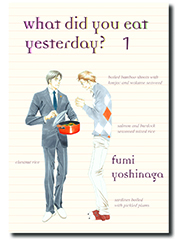 Over the last decade few new manga artists worldwide have received as much critical acclaim as Fumi Yoshinaga. After making a splash with her josei (women's comics) baking-themed mystery Antique Bakery, she repeated surprised and thrilled the world with her subtle romances, innovative views on history, and honest take on gender issues. And in a very unique way, she has branched far outside the limited reach of the international manga community as she has received honors from the American comics industry and LGBT circles, as well.
Her latest work may be her most intriguing work yet. Combining her passion of food and her insights towards Tokyo's gay community, What Did You Eat Yesterday? is a somber, subtly comical, but honest slice-of-life look at what it is like to be a gay couple in modern day Tokyo. Yoshinaga presents a couple with contrasting views on their privacy: one openly out but rejected by his family; while his partner is partly in the closet as his parents awkwardly try to be supportive. Presented without the titillation or graphic sex typically found in comparative works from the boys love genre, Eat at its core is a look at the couple's struggles and their catharsis expressed over the finely prepared meals they share each and every night.
Packed with thoughtful writing, insightful and timely commentary and a recipe or two with every chapter, Eat is like a wonderfully prepared full-course meal by one of manga's finest. And this volume will not only whet the appetite for more, but should satisfy the hunger of most manga gourmands desperately looking for some more substantial manga to consume.