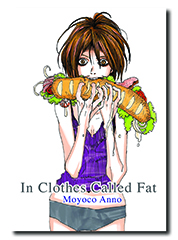 One of the things that has historically made the Japanese comic scene unique is how it can tackle social issues while presenting them in an accessible and entertaining manner. The manga market, even as it adjusts globally, can still find audiences for challenging realistic themes without having to frame them in the world of superheroes or school-age allegories.
Moyoco Anno's latest translated work falls into that realm perfectly. In Clothes Called Fat never shies away from the topic at hand. Instead it presents eating disorders at the forefront, even frames it right on the cover in an almost frightening manner. Her lead character Noko Hanazawa is like many Japanese office ladies. She lives for her job, but her occupation gives her little more than a wage and stress. Her co-workers provide little support or comfort. And while she is fortunate to have a lover, her insecurities are piling up and to those around her so is her weight. To combat this, Noko, who at one point was being overcome by her frustrations leading her to eat as an escape mechanism, would instead come to purge everything in her life.
In Clothes Called Fat presents a story all too common, but sets it from a perspective that is fresh to Western readers. Told from the eyes of one of josei comics' (women's comics) premier talents Fat takes readers deep into a world that while not very different from ours, is simply rarely seen outside of Japan – the everyday office lady (OL). But unlike the handful of OL tales that have been translated before, Fat's world-view is not an OL fantasy, it's an all true real tragedy that sent shock waves across Japan, and eventually across the globe.