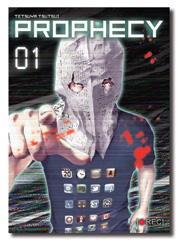 As technology continues to make our world smaller, it may also seem as if people's freedoms are equally becoming more and more restricted. The internet is also being threatened as net-neutrality is becoming a hot-button issue. So what if those on the net decided to commit their own brand of justice, while they were still ahead of the police state? And what if in ways similar to the Anonymous Group, their word is spread and endorsed by countless unknowns on the net worldwide hoping for change?
Tetsuya Tsutsui's Prophecy takes on these questions by presenting them in modern day Japan, where societal changes has driven many people to the web for their interaction and self-expression. These days with fewer and fewer people marrying or even getting into long-term relationships, the net is home to many in that country, and across the planet. And new forms of expression are rising from Japan in ways that only the internet could fully support. In Prophecy the net has created a place for vigilantism that is now streamed live on platforms like YouTube; commented on message boards like 4Chan; and shared and reblogged on network like Twitter and Facebook. There is no need for newspapers or radio anymore to spread this new form of messaging. And the four paperboys of this story are ready to tell the world their story.
Extremely timely and provocative, Prophecy is not your standard JUMP title. It is a thriller that does not rely on fantasy or fan-service, instead it turns its focus on themes and topics that are even more compelling – employment issues, class wars, immigration and internet-inspired movements.