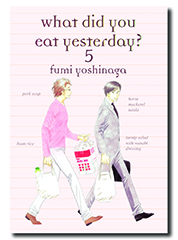 Shiro Kakei is a lawyer by day and thrifty househusband by night. His passion is to cook, and furthermore, to do so with a cost conscious attitude that suits his lifestyle. But Shiro has faces numerous pressures that exhaust him outside of the law firm. His constant concern over his sexuality and how it may be perceived in society weighs on him much more than any case or consultation.
In this fifth volume of What Did You Eat, Shiro's cover is repeatedly blown. While his decision to stay partially in the closet is something that weighs heavy on him, those pressures are not mutually shared by his friends and acquaintances. First it is the weekend cooking party with his friends that turns into an afternoon with the local tennis club. Then comes the trip to the jewelers with Kenji to get their rings. And then there was that awkward time with his parents. If only work at the law firm wasn't equally stressful, but ultimately all of this frustration ends up leading him to the kitchen where he can relax.
Nothing can be more relaxing than a good meal and some conversation. And with every new chapter, Fumi Yoshinaga slowly peels back the layers of this unique manga couple. Revealing some insights about Japan's Gay culture and sharing some hearty Japanese cooking recipes in the process.