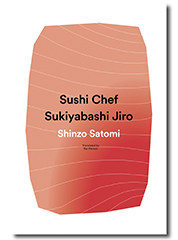 Sushi chef (and subject of the 2011 documentary "Jiro Dreams of Sushi") Jiro Ono is a true original – passionate, obsessive, opinionated, a perfectionist and a brilliant technician. Diners lucky enough to have experienced a meal at his Tokyo restaurant Sukiyabashi Jiro know first-hand that he is the Master.
But the rest of us are left wondering, what is it about Jiro that makes him so good?
In SUSHI CHEF: SUKIYABASHI JIRO, Jiro reveals his secrets. The book is the ultimate guide to all things sushi, from a detailed explanation of what fish to use and why, to seasonal ingredients for nigiri, the preparation process, sushi rice, nori maki and tamagoyaki, pickling ginger, grating wasabi, and much, much more.
Interspersed with the main chapters are "Jiro Sushi Talks," in which the iconoclastic chef informally chats about a wide range of topics. Among his more eye-opening proclamations:
Kohada (gizzard shad) is the Yokuzuna (sumo wrestling champ) of nigiri. My throat    squeaks when I eat it. (p. 43)
It's out of pride as a sushi craftsman that I disregard profit and make shinko (young    gizzard shad) nigiri. (p. 47)
The reason Edomae-style ebi (shrimp) is by far the best is that it's superior in criteria    such as sweetness, aroma, and the color after boiling. This is probably because there's plenty of food for them. The seawater needs to be somewhat dirty for the kuruma ebi's food to grow. If the water is clean, ebi won't live there, so Tokyo Bay became its perfect habitat. (p. 73)
Nori is such an important ingredient that it can affect the impression of a sushi    restaurant overall. (p. 208)
I'm often told that my customers don't get thirsty after eating our nigiri. (p. 246)
Good sushi restaurants discipline customers. (p. 261)
When it was published in Japanese in 1997, SUSHI CHEF shocked the industry and aficionados alike with its revelations of insider information and startling opinions. Now, with Vertical's new version, English-speaking sushi lovers everywhere will come to appreciate Jiro's vision, and to understand why a seat at the counter of Sukiyabashi Jiro is, arguably, the most coveted in Japan.