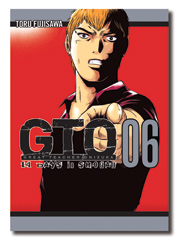 Much like Thanksgiving, Toru Fujisawa's GTO has been a namesake in pop-culture. While Americans have long come together around the holiday bird in November, manga readers across the globe have been partaking in a feast of nail-bats, minotaur cosplay, and potty jokes that has made the Great Teacher Onizuka franchise one of the most beloved properties over the last two decades.
In the sixth volume of GTO 14 Days In Shonan, we're treated to nonstop action and tension as it's up to the Great Teacher to help keep the peace. With the Oedipus club continuing to terrorize, to the point where actual lives start hanging in the balance, even some of their own are realizing they're going too far. As always, the fists are flying and whether he's at the giving or receiving end, Onizuka still stands to protect those who need his help.
So this holiday season, stuff your stockings and brighten your Fridays with a copy of GTO. Complete with intense fist-action, emotionally charged and compelling characters, and a rather gratuitous amount of fanservice, GTO: 14 Days in Shonan is stuffed with everything you could want out of standout shounen manga, minus the filler or tryptophan found in other comics.