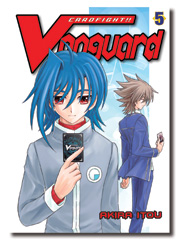 Aichi and Ren continue their intense Cardfight battle. As both are capable of using PsyQualia to see the world of Vanguard and listen to the voices of their cards, Ren thinks he already knows how the battle ends—until something changes in Aichi, and a new card reveals a totally unexpected conclusion to their fight.
Later, Aichi's younger sister, Emi, insists on going with him to Card Capitol, where the gang teaches her how to Cardfight. At the shop, Aichi and Kai battle again, Kai still intent on fighting only earnest battles. Yet as their Cardfight nears the end, Kai begins to sense a force emanating from his deck. Could he, too, be experiencing PsyQualia…?
Aichi, still new to the Cardfight world, has a natural ability to read the flow of the game, and his earnestness has an effect on those he battles, as both Ren and Kai, old dogs in the game, start to learn new tricks.