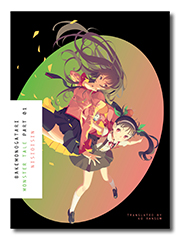 Return to the mesmerizing world of Japanese phenom NISIOISIN's Monogatari series, with the first of the legendary Bakemonogatari stories.
English-language readers got their first delicious taste of Monogatari last year, when Vertical released Kizumonogatari: Wound Tale, a stand-alone prequel to the Bakemonogatari cycle. Now, with BAKEMONOGATARI: Monster Tale, Part 01, they can experience the novel that originally kicked off the Monogatari series.
Here's a chance to meet up again with your favorite characters from Kizumonogatari: hapless narrator Araragi, class president among class presidents Hanekawa, shady problem-solver Ogino, and a certain pale, blonde former vampire. Joining them in their new exploits are Senjogahara and Hachikuji.
This first Bakemonogatari tale revolves around a mysterious girl in school who suffers from a weird illness. She routinely arrives late, leaves early, or doesn't show up at all, and skips gym as a matter of course. She very pretty, and the guys in her class are intrigued, speculating that she's a pampered princess. But as Araragi and friends soon find out, she's most certainly not a princess. . . she's a monster (for real).
Part supernatural thriller, part high-school romance, and part laugh-out-loud comedy, BAKEMONOGATARI: Monster Tale, Part 01 is as entertaining as it is provocative.
Parts 02 and 03 of Bakemonogatari will be published by Vertical in February and April respectively.
Praise for Kizumonogatari:
"A great prose voice, strong central narrative, and endless thematic echoes make this a rich experience for Monogatari fans and likely a fun one even for newcomers." – Anime News Network
"Kizumonogatari keeps your eyes glued to the page by intertwining the normal with the paranormal. . . . the characters are still fun, quirky, and just as animated as they were in the show, supported by strong dialogue." – Japanator.com