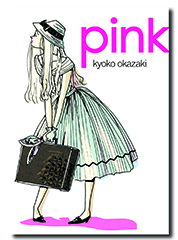 Over the last year plus, Vertical has embarked on a very unique publishing endeavor. With an aim to continue to challenge and grow the market, Vertical took it upon themselves to branch out to a segment of the Japanese market that has long been underserved within the English reading manga community – josei manga (Japanese women's comics).
Our latest is a gem from the early days of josei. Originally penned in the late 80's, PINK is Kyoko Okazaki's first breakthrough and is often credited by critics globally as one of the most important women's comics of its time. A product of the conclusion of the Japanese economic bubble PINK delves into a life of a young office lady with ambitions of living an ideal life – a comfortable life with some luxuries, some romance, wealth, health, independence and a pet crocodile.
To accomplish this lead character Yumi splits her time between working in an office and working under the sheets. But having everything you wish does not make a happy life. And when family and financial matters impact her oh so comfortable life improvisation is required. The results may seem to come up roses on the surface, but inside may not be so pretty.
Thoughtful, shocking and full of melancholy, PINK is as colorful as it was twenty-five years ago. And given the state of manga in English is needed here more than ever!