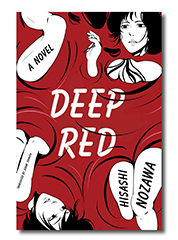 Two young women…bound together by a tragic incident from the past that has damaged them both beyond repair.
When Kanako Akiba walks into the sketchy Ice Storm bar, it's with the express purpose of meeting the bartender, Miho Tsuzuki. At first it seems like an unlikely friendship, but there's definitely a spark of connection between the two young women.
Even though they've just met, the connection goes back to when both were in the sixth grade. Kanako's entire family had been murdered. And Miho's father was the man who committed the crime.
Kanako had been having a great time on a class trip when her parents and two brothers were killed by Norio Tsuzuki, who had been financially ruined by a business colleague, Kanako's father.
Over the years, Kanako's rage and lust for revenge grew to the point of obsession. But now that she's met Miho and started to get into her head, Kanako realizes that perhaps the two of them are really not that different.
Deep Red is a dark and disturbing exploration of how anger can be ignited and burn slowly, until finally it bursts into a flame of fury that is all-consuming.