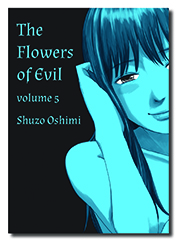 While Vertical is not a stranger to the adaptation game, it is a bit unusual for one of our manga titles to be running as its anime counterpart is broadcasting globally. So with The Flowers of Evil anime adaption just beginning to air, and causing quite the controversy at that, what better time would there be to check out the critically acclaimed manga? Each volume has been more addictively tense than the last and, as the series continually outdoes itself, volume five only strengthens the claim that The Flowers Of Evil is one of the best manga being currently published.
If you thought the previous volumes were shocking to the touch, this one will leave your bones electrified. Shuzo Oshimi weaves a chilling and unforgettable tale about a couple bored youth in a small forgettable town that has left both the fans and the critics screaming. This bold manga continues to completely break societal convention and says it's okay to reject our society's contemporary values. Of course, now it's about figuring out how to top it with an even bigger act of decency. While Nakamura and Kasuga are plotting away, the increasingly vindictive ex-girlfriend Saeki wants to know why Kasuga dumped her, as she sets out to find what exactly the relationship between he and Nakamura. What happens when she begins to uncover exactly what this dynamic duo has been up to may be one of the most shocking scenes to ever be published in a Vertical manga (quite a feat considering what we have published).
Don't let your ordinary spring go waste! Give into your inner deviant and pick up The Flowers Of Evil volume five today, $#1t-bugs.