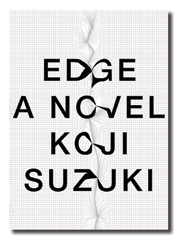 Vertical, Inc. would like to congratulate author Koji Suzuki as he was acknowledged with the 2012 Shirley Jackson Award yesterday for his novel Edge.
It has been ten years since Vertical entered the publishing world with Mr. Suzuki's RING series, and to see Mr. Suzuki's works still being accepted and recognized by the public and critics alike is a testament his mastery of the horror and thriller genres. We hope that with this award, even more readers will be introduced to Edge and Mr. Suzuki's unique brand of quantum-horror.
Boston, MA (July 2013) — In recognition of the legacy of Shirley Jackson's writing, and with permission of the author's estate, The Shirley Jackson Awards, Inc. has been established for outstanding achievement in the literature of psychological suspense, horror, and the dark fantastic.

The Shirley Jackson Awards are voted upon by a jury of professional writers, editors, critics, and academics, with input from a Board of Advisors. The awards are given for the best work published in the preceding calendar year in the following categories: Novel, Novella, Novelette, Short Story, Single-Author Collection, and Edited Anthology.
The 2012 Shirley Jackson Awards were presented on Sunday, July 14th at Readercon 24, Conference on Imaginative Literature, in Burlington, Massachusetts, hosted by Readercon 24 Guest of Honor, Maureen McHugh.
The winners for the 2012 Shirley Jackson Awards are:
NOVEL
Winner: Edge, Koji Suzuki (Vertical, Inc.)
Finalists:
The Drowning Girl, Caitlín R. Kiernan (ROC)
The Devil in Silver, Victor LaValle (Spiegel & Grau)
Gone Girl, Gillian Flynn (Crown Publishers)
Immobility, Brian Evenson (Tor)