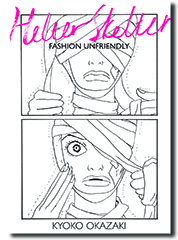 It is well known throughout comic circles that Japan's manga industry thrives due to its range of content and reader diversity. Manga over there is consumed by the general public, and even with magazine numbers declining, graphic novel sales are seeing spikes across the board. However even within the manga world there is still new territories to be discovered.
These days works from international artists and yuri (lesbian relationships) comics tend to be considered the next frontier. But just thirty years ago, ladies comics were the final frontier. Where women were known to read shojo comics, along with shonen and seinen comics, josei (ladies comics) were a new fad driven almost exclusively by harlequin style romances and fashion themed magazine spreads. A generation later, artists like Kyoko Okazaki were beginning to revolutionize the category by branching out from the old memes, while still resonating with a new generation of young women readers.
Helter Skelter is the culmination of that change. In it, Japan's top fashion model Liliko may be at the top of her field but like many in her position she is wavering internally. But Liliko has good reason for her struggles… She is physically falling apart. While younger, perkier models begin to make their moves on the scene, Liliko like a tiger is not willing to let go of her territory. She takes on more and more work and dates some of Japan's business elite. All of this is accomplished while continuing to work on her beauty. And with all that stress, the young woman is now breaking down inside and out.
There is no amount of plastic surgery that can fix her. Medication or therapy will not bring her back, either. Nevertheless, if this star is going to fall or fade into obscurity, she is going to take down as much of the business with her. And that downfall proves quite a fascinating ride for the reader.
Dark, powerful and never willing to hold back its punches, Helter Skelter is a challenging work that is well-worth the critical acclaim it has received over the years, having won the Osamu Tezuka Award and the Japan Media Arts Award for Manga Excellence.