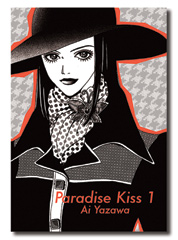 Ai Yazawa's beloved series Paradise Kiss captures all the drama, enthusiasm, and sense of collaboration of "High School Musical"—only in this case, the talented kids are fashion design students and they're putting on a fashion show. Yazawa, an internationally top-selling author of shojo manga, was also an aspiring designer and a student at a top fashion school in Japan, so readers get a real insider's look at the world of fashion and the creative, passionate—and often eccentric—people who dedicate themselves to it.
Paradise Kiss 1 opens as Yukari is rushing to a college exam cram course. Yukari is a serious, straight-laced high school senior, but she's started questioning whether there's more to life than just taking tests and succeeding in school. On this particular day, she's kidnapped by a group of fashion design students who ask her to be their model in the upcoming runway show.At first, Yukari refuses, because she thinks the design students are airheads and flaky, and she's too busy with her studies. But then George, the complicated and charismatic lead designer of the group, turns on the charm, convincing her to be in the show and also to take a good, hard look at her life.
Ai Yazawa's gorgeous drawings and lively dialogue (in a new translation) combine to create a cast of endearing, quirky, and very human characters. Readers of all ages will relate to Yukari, George, Miwako, Hiro, Arashi, and the others as they struggle to find their unique identities and make the tough choices necessary to becoming an adult.