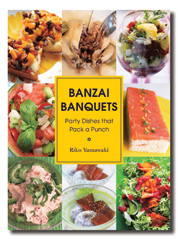 Throwing a party can be really, really stressful.  There's so much to worry about—what to serve, how long it will take to prepare, how to make sure everything is ready at the same time, how to plate and present the food, and how to set the table in fun, imaginative ways that are attractive and fit the occasion. But in Banzai Banquets, chef and cooking instructor Riko Yamawaki takes the anxiety out of entertaining with an abundance of tips and recipes for dishes that are sure to please guests and hosts alike.
Yamawaki's recipes are based on classics but she gives them a Japanese twist, with ingredients that are easy to find and instructions that are simple to follow. The beautiful color photos show you what every completed dish will look like, and will also give you ideas for using just the right bowl or platter to make the food as appealing to the eye as possible.
In the first section of the book, called "Cute! Visually Surprising Menu Items," she suggests making things pop with unexpected combinations of ingredients (watermelon with cucumbers, cherry tomatoes, celery, and jicama; camembert cheese with dried fruits and a splash of rum; scallops and pineapple). Part 2 introduces recipes that are the basis for other creations, like Vinegared Dried Fruits, Tofu Walnut Dressing, and a "Grown-up" Tomato Sauce. Next comes a selection of mouth-watering entrées such as Bream in Clam Sauce, Manhattan-Style Pork (with coffee as its secret ingredient), and Beef Shank Stewed in Berry Sauce. Part 4 offers "upgraded" side dishes, while Part  5 shows you how to be creative with noodles and rice. And with the fabulous sweets in Part 6 (Ice Cream di Balsamica, Dried Sweet Potato Parfait, Basil Granita), there's always room for dessert!
Yamawaki concludes with a section on table decoration; and then gives complete, detailed plans for parties that are guaranteed to wow. Whether it's an Early-Summer Lunch for your girlfriends or a Casual  Yet Luxurious Christmas feast (and it's O.K. NOT to use traditional reds and greens!), here are the menus, recipes, timing suggestions, and focus tips that will have you and your guests shouting, "Banzai! Let's eat!"