What does it take to be a good cop? Natsume in A COP'S EYES and Mekari in SHIELD OF STRAW each brings his own approach—along with some pretty heavy personal baggage—to his work as a Tokyo police detective.
Calm, soft-spoken Natsume certainly doesn't fit the image of a hardened Tokyo cop. He'd started his career working with troubled kids at a reformatory but had abruptly quit to join the force. Those who know him wonder why this gentle man, whose vocation had been to believe in other people, had chosen a new profession based on doubting them. Sincere, empathetic, and persistent, Natsume doesn't resort to physical force or even flashy forensics. He solves cases by listening closely and winning the trust of both victims and perps—then looking into their hearts and minds with the eyes of someone who can truly understand.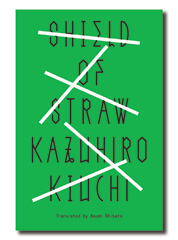 Assistant Inspector Mekari, on the other hand, has no interest in getting into the head of the child rapist-murderer he's ordered to escort back to Tokyo to stand trial. He just wants to complete the assignment and be done with the creep. A recent and still-grieving widower, he had thought he'd be willing to take a bullet in the line of duty. But things have gotten complicated: a billion-dollar bounty has been placed on the killer's head by the latest victim's grandfather. Now, with just about everyone in Japan lusting after the money, Mekari struggles to come to grips with his own sense of duty…to his job, to the thoroughly evil person he's supposed to keep safe, and to himself.