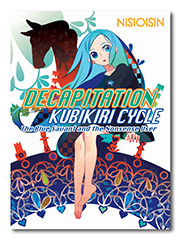 Iria Akagami collects geniuses. Eccentric and extremely rich (even after being disinherited by her family), Iria lives on a private island and surrounds herself with brilliant and accomplished women: the genius painter, the genius chef, the genius scholar, the genius fortune-teller, and the genius techie. There, on isolated Wet Crow's Feather Island, the group of smarties work, share meals, converse, and match wits. Until one of them ends up dead – headless, in a room with the door bolted on the inside and no other means of entry or escape.
The story's narrator, himself no slouch in the brains department and the friend/attendant of the digital diva of the bunch, has set himself the task of figuring out what's going. Who's doing the killing and WHY??? But the situation keeps getting more complicated and confusing. . . and he's not receiving a whole lot of cooperation from anyone else at the mansion.
Written by Japan's prolific and palindromic phenom NISIOISIN, DECAPITATION: Kubikiri Cycle – The Blue Savant and the Nonsense User is at once a traditional locked-room mystery and an edgy exploration of the nature of talent, intellect, and ego. The author made his debut at the age of twenty with this Mephisto Award-winner, which was first published in the U.S.by Del Rey as Zaregoto, Book I: The Kubikiri Cycle (2008). This new Vertical edition has been retitled and features a revised translation. The release of DECAPITATION is just in time for the long-awaited animated series based on illustrator take's character concepts.