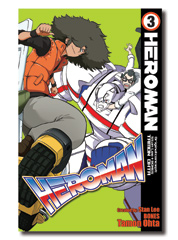 Instead of waiting for spring to come, warm up your body this winter by letting the latest installment of Stan Lee's Heroman boil your blood. This culture clashing manga will hit you with everything a shonen manga fan could wish for. Complete with the complete destruction of an alien base, some absolutely funky hair, and a robot essentially going "super-saiyan", what more would any shonen loving manga reader want?
The third volume of Heroman is both the darkest and most thrilling book in the series yet.  After finally making peace with Joey last volume, Will gets captured by the insect invaders and becomes subject to some nasty genetic modification and brainwashing. Does the now half-Skrugg mind-warped Will mean defeat for Heroman and his compatriots or will he come to his senses and give them the edge it'll take to bring down the invading Skrugg army once and for all? Either way, you won't want to miss the climatic final battle between Heroman and the Skrugg commander. Worry not though; Heroman isn't ending here as something even more devious is happening behind the scenes.
Stan Lee's Heroman, a joint effort by top creative minds of both the east and west, is a triumphant example of all out fun. It's not your typical east meets west story, but it is sure to entertain. The conflict is peaking and the battle against the invading aliens is at its climax, you just know that this volume is absolutely one not to miss. Bringing together what makes shonen manga so endearing and what makes the American superhero so awe inspiring, Heroman continues to be a unique and stand out entity in its genre.