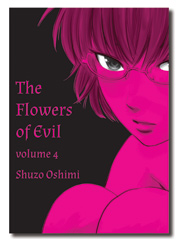 Another year and with it comes another set of releases. Our first release of the year is oddly apt for these dark days of winter. Shuzo Oshimi's The Flowers of Evil has earned critical acclaim since its debut last year. However, whatever naïve and almost disturbingly cheerful narrative may have developed throughout the first arc of this series will quickly be erased as Oshimi's cast willingly dive deep into the darkness to create a world uniquely their own.
Volume four of The Flowers of Evil finds the panty stealing nervous wreck of a protagonist Takao as a new person. No, he didn't shape up after trying to run away backfired. Instead of reforming, after burning his bridge with the former girl of his dreams Saeki, Takao openly accepts his new life as a "filthy pervert." However, his recent actions have left class-bully Miss. Nakamura more than a bit disappointed. As a matter of fact, she wants nothing to do with the once bookish teen. Will they ever be able to reconnect, or will not even committing an act of graver indecency than ever before be enough for Nakamura to give out a second chance?
Contrary to what the media may be propagating recently The Flowers of Evil continues to boldly break convention and says it's okay it's okay to reject society's values. So this year, instead of making resolutions that will never be kept, why not attempt something that may come naturally to a well read manga enthusiast and regularly partake in our guilty pleasure known as The Flowers of Evil.