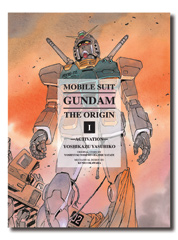 In case you are a rare Vertical fan who does not read manga, you might not be aware that our latest release, Yoshikazu Yasuhiko's Gundam the ORIGIN, has hit the New York Times Manga Best Seller list for the second week in a row. This re-telling of the very first Mobile Suit Gundam animated series by the story's original art director has captured the attention of fans across the globe nearly 35 years after the cartoon debuted in Japan. While not a frame by frame adaptation, YAS (as the author is known affectionately by fans) has retooled this sci-fi classic to craft what may be the definitive first Gundam tale.
To match the quality of the content, Vertical has gone beyond the call of duty to make this release a unique reader experience. Each 400-plus page sturdy hardcover release is packed with dozens of color pages on rich thick glossy paper. Every book also features extra materials, such as essays, comics and portraits, from famous Gundam fans. The materials from luminaries such as Hideaki Anno (Evengelion), CLAMP (Cardcaptor Sakura), and Shimoku Kio (Genshiken) detail each of these artists relationship with the Gundam franchise allowing readers to share the experience with their idols in a way rarely seen in manga.
But if you are on the fence or new to the world of Gundam, we ask you go check out a short preview at BN.com and consider these reviews:
"[Gundam] contains such a rich vein of character, drama and imaginative concepts that its influence is still felt over thirty years later. For this reason alone, it deserves both your time and your respect. Oh, and it looks awesome on your shelf." —Anime U.K.
"This is without a doubt one of the nicest manga volumes I've owned, since Vertical chose to print this in an oversized hardcover format with glossy paper. A must buy for any past and present Gundam fans, and if you haven't encountered the franchise before, I'm betting this manga will win you over." —Manga Report
"The main reason to get the Gundam manga is probably the same reason the original anime became so legendary; you can't stop wondering what happens next. These people and their struggle to survive are amazingly compelling, and everything about this manga adaptation—the plot, the artwork, the characterization—makes it justify its existence. I am very happy to see it coming out here, and can't wait for more." —A Case Suitable for Treatment