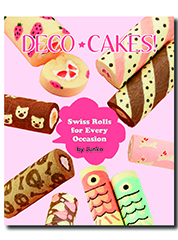 Vertical readers might not know this, given how much manga and Japanese horror we publish, but North America has been going through a dessert revolution as of late. The cake, whether cup or birthday, is making a big-time comeback. Supported partially by cable television shows like Cake Boss and Ace of Cakes America has once again discovered its sweet-tooth.
Well, Japan is no slouch when it comes to confectioneries either. You cannot walk more than a few blocks in a major Japanese city without passing by tea houses and coffee shops with an assortment of cakes and tarts. Dessert shops are all the rage across Tokyo in places like Harajuku, Shibuya and Ikebukuro. And on the internet dessert making has recently been taken to a whole new level mainly by the efforts of one woman – JUNKO.
In her first English language release JUNKO takes on the classic Swiss Roll Cake and gives it a very Japanese treatment. With Deco Cakes she prepares a simple cake recipe and brings it to the modern DIY-age by providing dozens of colorful and inspired designs suited for a variety of events and themes. A graphic designer by trade, JUNKO visual ideas are equal parts modern Japanese J-Pop fun and thoughtful food science. And best of all they are oh so perfect for the sweet-tooths in your life.