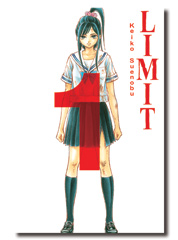 Fresh off the heels of our Paradise Kiss release, Vertical's next new project also focuses on high school girls, however the themes are not as frilly and romantic. Instead, with Limit, by Kodansha Manga Award winner Keiko Suenobu, we are introduced to shojo's dark side!  Part Lord of the Flies, part Mean Girls–and all shojo manga at its best, this engrossing, provocative look at the world of high school cliques and crowds, and the extreme things a person will do to survive should introduce western readers to a new dimension of Japanese girls comics.
When a group of high school girls is thrown out of their comfort zone, the rules suddenly change. Roles are reversed as the bullies become the victims while their former victims wield their new-found power to avenge past abuses. Friendships crash and burn, and new alliances are formed.  Sakura is at the epicenter of the elite circle at Yanno Prefectural High School. She's pretty and smart, and everyone wants to be her friend. The two girls closest to her are Konno and Haru, who are constantly competing for Sakura's attention–often by picking on other girls who aren't in with the popular crowd. Tensions are already high as class 2-4 heads to the country by bus for a week of camping. Then the unthinkable happens. The bus careens off a cliff and everyone on board is killed–except five girls. Five survivors who must adjust to a dramatic shift in the social hierarchy if they want to stay alive.
Always attempting to expand the boundaries of Japanese culture in America, Vertical's release of Limit will have readers re-evaluating the limits of not just shojo but manga as a whole.