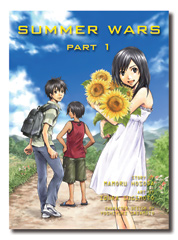 Over the last ten years or so, the world of Japanese animation has been a state of transition. While the traditional television industry has begun to fail the industry, film continues to be something of a financial challenge. Production costs prevent most studios from reaching the level of technological quality seen in other parts of the world. However, Japan does still see plenty of accomplishments from the writing and directorial realms of animation, and one of its rising stars is Mamoru Hosoda.
The director of the acclaimed The Girl Who Leapt Through Time firmly established himself as a member of the young vanguard of anime with the beloved Summer Wars. Now adapted into a graphic novel set, Hosoda's Summer Wars is rendered in black and white by veteran comic artist Iqura Sugimoto (Variante). Iqura takes Hosoda's vision and realizes it in a way that can only work in a comic, free of the budgetary restrictions of animation and also allowing for more perspectives and points of view as it can be visualized from the eyes of different characters in and out of the virtual world.
So why not relive one of the more beloved animated movies in recent memory. Take a trip to Ueda and join Kenji as he infiltrates the Jinnouchi clan in this two volume adaptation of Mamoru Hosoda's Summer Wars.