Happy 2016 Vertical readers! With a new year comes a new slate of titles launching. And in this year we are pushing the envelope just as only we could.
New seinen series! New sports manga! New alternative manga! New light novels! New Japanese mystery novels! New cat comics! eBooks! AudioBooks!
And that's just for the first half of the year. Imagine what the catalog will look like once we start announcing our Fall and Winter lists!
New Releases
Inio Asano is known as one of the more dynamic manga artists in Japan today. Combining photo-realistic background art that are in complete contrast to the almost super flat or moë inspired manga character designs his art is striking yet simple, and a perfect compliment to his angst filled narratives.
His latest work to hit North America is A Girl on the Shore. Part coming of age story, part teen romance gone wrong, Girl pushes readers and Asano into a new level of story-teller as he dives deep into the twisted and ever evolving lives of Japanese teens.
Look out for Girl. Asano has already received two Eisner Award nominations, this could be his third.
Fresh off our immensely successful KIZUMONOGATARI release comes our next light novel series, Seraph of the End by Takaya Kagami. Set before the events in the manga and anime, the light novel series revolves around Guren Ichinose and the on-coming war against vampires. A must for fans of the Seraph franchise this light novel series reveals critical details about the back story for many of the characters of the animation.
Our biggest new manga release of 2015 was also our biggest release of 2010! Konami Kanata's The Complete Chi's Sweet Home might have flown under the radar of vendors when we launched it in August, but the new oversized full-color omnibus has been a huge hit launching what seems to be a mini cat comics revival. This month we release the second of four Complete Chi's hoping even more readers will give our favorite manga feline a warm home this winter!
---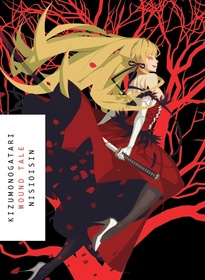 Now Hear This!

NISIOISIN's KIZUMONOGARTARI is already one of the most successful Japanese novels in recent memory and this is before news of a North American theatrical tour of its anime (tentatively scheduled for February 2016). But what if novel and anime are not enough to satiate your hunger for all things Kissshot and Araragi?
Well, we have something completely new for you.
Announced at New York Comic Con, this Spring Vertical will be stepping into the world of audiobooks with none other  than KIZUMONOGATARI and Attack on Titan: The Harsh Mistress of the City as our first releases. Each book will be read by established voice actors, recorded in professional dubbing studios, before being provided music and sound effects to enhance the overall listening experience. With some books clocking in at more than 12 hours, these "reads" will be a hearty experience that can rival the length of some anime tv series.
Distribution and pricing details are still being worked out, but in the meantime we do have some info to share with our newsletter readers:
Voice Actors for KIZUMONOGATARI:
Erik Kimerer
Keith Silverstein
Cristina Vee
Voice Actors for Attack on Titan: The Harsh Mistress of the City:
Keith Silverstein
Erica Lindbeck
Stay tuned to this newsletter and Vertical's social media platforms for alerts on these projects.
---
The wait is almost over! Announced back in 2012, the first KIZUMONOGATARI movie just debuted in Japan!
No that is not a joke! No it isn't a scam! The KIZUMONOGATARI movie is here!
Produced by SHAFT, Part One: Tekketsu is the culmination of years of development from team NISIOISIN and the animation people behind this legendary franchise. Part of that project was making certain that this movie would be accessible by a global audience of MONOGATARI fans. And here in the US that means theatrical screenings starting February 26th!
Distributed by ANIPLEX fans of this property can find more details about theaters and screening times at their website http://kizumonogatari-usa.com.
We hope fans of NISIOISIN's "Tales" will join us in theaters so we can relive this one via the big screen!
---
Future Releases:
From cat comics to surreal comedies and various forms of Japanese gumshoe prose, Vertical in 2016 is your opportunity to accomplish that one key resolution you make every year… Read more good content!
Image Copyrights – All Rights Reserved
Chi's Sweet Home © 2016 Konami Kanata; Seraph of the End © 2016 Takami Takaya; My Neighbor Seki © Takuma Morishige 2014; KIZUMONOGATARI © 2008 NISIOISIN; KIZUMONOGATARI: Part One -TEKKETSU- © NISIOISIN/KODANSHA, ANIPLEX, SHAFT