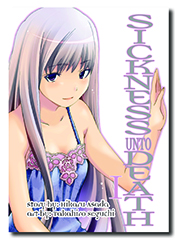 In the realm of manga, few translated comics have taken on the human condition. Concepts of despair, solitude, and regret are often ignored in favor of ideas like violence, lust and adventure. Manga like most media is often looked at for catharsis and particularly in the world of translated comics, they are aimed at an often impressionable youth audience.
Takahiro Seguchi's Sickness Unto Death challenges those beliefs. His two-part story pulls back the curtain on a culture that is often seen to be consumed by despair – modern day Japan. Japan's relationship with suicide and isolation is well documented and can often be seen exhibited even in the business and political realms. And Seguchi reveals his take on the topic, through the writings of Hikaru Asada and Soren Kierkegaard, to present a case where a young woman full of potential and life, can fall prey to doubt as she finds her sense of hope dashed.
Emiru may appear to be a delicate flower; a frail beauty with a mysterious aura to her. But something dark has consumed this young, once award-winning violinist. With the help of a young psych student, readers are allowed to see the what lurks inside her. And what has developed her unique sickness.
Subtle, dark and thoughtful, Sickness Unto Death is a harrowing tale of what it is like to truly lose it all.