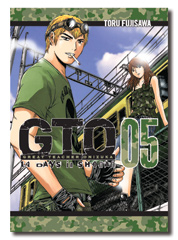 We've reached the halfway point in Eikichi Onizuka's two-week excursion to his hometown of Shonan, and as always, the great teacher is giving life lessons with his fists more often than with his books. From restoring broken trust and giving the youth of today hope, to taking on delinquents, gangsters, and more, the GTO does it all!
In GTO: 14 Days in Shonan volume five, Onizuka continues to help foster care child Seiya through his heart-breaking situation with his neglectful mother and abusive father-in-law. Taking down both a gunman and a giant monster of an assassin, Onizuka one again puts himself on the frontlines for the sake of the kids who have no one else to believe in. But the real star of this volume is a certain unlucky vice-principal, who while in the middle of his search of Onizuka, redeems himself ever so slightly by changing his curriculum and "hair-style" after witnessing some fresh see-food.
Toru Fujisawa's GTO has been a namesake in manga for more than a decade, and 14 Days In Shonan is continuing that legacy.  With a successful anime and numerous live-action adaptations over the years, the GTO franchise remains recognized around the world for its intense action, emotionally charged and compelling characters. Few manga brands have changed the landscape of  manga publishing as this, and GTO: 14 Days in Shonan teaches readers that stories do not need martial arts hijinks to make stand-out shounen manga.