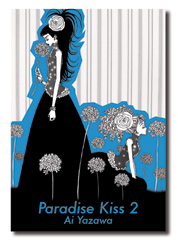 Beautiful fashion, endless romanticism, and those incredibly well dressed gorgeous boys return in the second volume of Ai Yazawa's Paradise Kiss. The beloved josei manga Paradise Kiss continues its triumphant yet fashionable return to the North American market in this second of three omnibus volumes.
A lot seems to be happening the life of Paradise Kiss's enthusiastic heroine Yukari Hayasaka in this second volume.  For starters, both her modeling career and her relationship with the enigmatic pretty boy George begin to take off. One day a normal high school girl, the next she stops attending classes and gets scouted by a modeling agency. Yukari thinks she has it all, now that she has George and the rest of her new friends at the atelier.  However, what will happen when she realizes that maybe her love with George isn't all that she fantasized it would be, and that she can't run from her real life forever?
Brought to life by Yazawa's absolutely gorgeous line art and her fashion know how, the world and the outfits of Paradise Kiss are nothing less than exemplary. If you missed out on Parakiss the first time around, or are just looking for a good excuse to reread this modern classic, this stunning new release of Ai Yazawa's Paradise Kiss is a must.