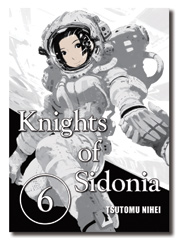 Now in its sixth volume Tsutomu Nihei's science-fiction showpiece Knights of Sidonia continues to shock and inspire, through its thoughtful artistry and well-plotted story-building. And as the series begins to place on many Best of 2013 lists while videos of its animated TV series are repeatedly distributed on the internet, readers of the source material can experience a turning point in this epic's narrative.
Nagate Tanikaze and his fellow Garde pilots know they are the vanguard in the fight for survival against the Gauna. Every time they sortie, the likelihood they will return to their homes becomes less and less likely. And when dealing with whole clusters of Gauna the odds become even more minute. So when Nagate and crew face off against the most recent evolution of the Gauna defense mechanism, it does not come as a shock to see mass destructions on both sides of the conflict. How the survivors deal with the tragedy and the aftermath will be critical as repairing a mobile suit, which adds plenty to this already engrossing drama.
Whether being read for the space opera or the unique twist on a gender-bending harem comedy, Nihei's Knights of Sidonia satisfies in ways photosynthetic organisms can never fully realize.