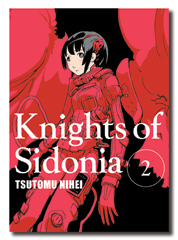 There has been something in the air recently. For some reason, there has been a resurgence in space appreciation. Could it be caused by a return to Mars exploration? Or maybe inspired by nostalgia created by a Space Shuttle tour? Whatever the reason, space is on our minds and here at Vertical we have had our heads above the clouds for years now…
On the heels of a hugely-successful Gundam the ORIGIN launch comes volume two of Tsutomu Nihei's Knights Of Sidonia. This latest volume starts off with a stunningly illustrated (complete with color pages) battle between the Guana and the Garde that leaves our protagonist, Tanikaze, and one of his fellow fighters, the beautiful yet quiet Shizuka Hoshijiro, stranded together in the depths of the abyss. How will things develop between them when it's unclear if they will ever be rescued? Plus, readers are treated to a look into the past of Kunato, the resident son of nobility, as he makes his first decisive, though utterly repulsive, move.
The newest work by sci-fi manga godsend Tsutomu Nihei continues on as a beautifully illustrated portrayal of the last of humanity floating away in space fighting on for their survival. This second volume proves to be an ever more intimate and harrowing experience as the story begins to really move off the ground. So brace yourself for yet another atypical Vertical space adventure!