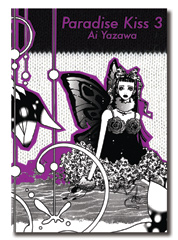 Vertical does not dive into the realm of license rescues often. But there are works and authors that demand to be part of the public consciousness for as long as possible. And that was the case that was made for Ai Yazawa's Paradise Kiss. One of the most recognized works from arguably the biggest name in shoujo, Paradise Kiss has remained a beloved series since its initial release. Due to its combination of beautiful art, well paced story telling, and conveying of emotions we've all felt, this manga has remained unparalleled in its category and demographic. It's sure to remain a classic for many years to come.
The heartache and toil enrich every single page of this dramatic read, compelling readers to mainline this josei work. And if you have not sampled the work before, maybe it's time to grab this last oversized volume, snuggle in, and experience this work for yourself. Unfortunately, yes, the beautifully illustrated outfits, the gorgeous guys and gals, and the melodrama do come to an end but it's because of how this wonderful manga comes together that has made Paradise Kiss the manga classic that it is today.
The Yaza Arts fashion show draws close.  Can the ParaKiss team be able put the together their differences and finish their final dress in time to beat the competition?  Of course, the story doesn't end there, not with all drama that needs to be settled. George and Yukari have always had a tumultuous relationship that always left her questioning his true feelings. Unlike Arashi and Miwako, who always seem to pull through together despite their differences regarding Tokumori. Will our heroine make it to the end of the manga hand in hand with her designer boyfriend or will they find that life has other things in store? Will Paradise Kiss make it?
So this week we lower the curtain on the third English edition of Ai Yazawa's josei fashion hit. But like the best Hollywood hits readers can continue to experience this timeless work for years to come as all three volumes of this new omnibus collection can now be found on shelves in New York, London, and maybe eventually Milan.