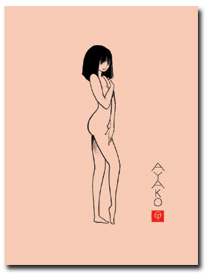 Let's face it. If you're reading this, you don't need an introduction to Osamu Tezuka. You know already know who he is and you know why he's important. Like the critically acclaimed Message To Adolf, Ayako is the godfather of manga at his best. This gorgeous paperback edition of Ayako comes in at just under 700 pages; making this artistically rich and complex work more than a bang for you buck. With Tezuka's descriptive art and his subtle nuanced writing both at their its peak, Ayako is a work of manga mastery, plain and simple.
The story of Ayako itself centers around one girl named Ayako, who's had a very unfortunate upbringing, to say the least, and her sizeable. She herself is the result of illicit relations between the family head and one of his daughter-in-laws, though she herself is unaware. Due to baring witness to a murder her communist-aligned brother committed, Ayako's family locked her up in their basemen, in an attempt to make sure their dirty laundry never slipped out.  She remained there throughout her entire adolescence and doesn't escape until she's an adult. Her relationships, at times incestuous, with her various family members over the years set against the backdrop of post-war Japan, with a handful of deaths and conspiracies surrounding the family itself unraveling throughout, make up this harrowing graphic novel experience known as Ayako.
Out of his entire breadth of work published here in the US, Ayako possibly is the most mature of Osamu Tezuka's masterpieces. A work that simultaneously both critiques the developing post-war Japanese society and speaks against some of the more restrictive elements of Japanese traditionalism, Ayako tells a dark story with perfect pacing and some haunting overtones. If you missed the hardcover release of Ayako a few years back, this new edition is a must. One of Tezuka's absolute best works, it's perfect for any established fan, someone needing an introduction, and the general graphic novel crowd alike.