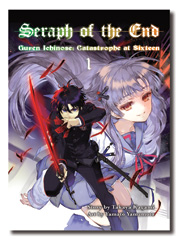 Math, science, history…preparing for the apocalypse. Guren Ichinose and his fellow students at First Shibuya High School have a lot on their minds besides rooting for the school football team.
SERAPH OF THE END: Guren Ichinose: Catastrophe at Sixteen is a light novel series set eight years before the events of the blockbuster manga and anime. In the novels, we know the end of the world is coming at Christmas, but how and why it will end, who will be responsible, and what will happen afterwards is still a mystery.
Like any group of high school kids, the students at elite First Shibuya have their cliques and crushes, their enemies and their heartbreaks. But for Guren, Mahiru, Shinya, Kureto, Mito, Norito, Sayuri, and Shigure, school is also about getting stronger, becoming better fighters, making strategic alliances, and defending the honor and power of their family clans.
Book I introduces the gang. As the heir to the weakened Ichinose Clan, Guren is in a vulnerable position among his classmates. His plan is to act meek and diffident, and suffer through the taunts and bullying until the moment is right to reveal his true strength.
Book 2 finds Guren's fortunes have changed—at least for the time being. He's now part of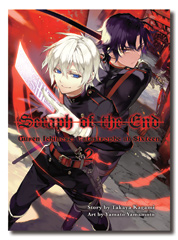 the inner circle of Kureto Hiragi, star student, powerbroker, and scion of the Hiragi Clan, leaders of the magical syndicate The Order of the Imperial Demons. On the surface, a submissive follower, at heart, unbowed, Guren directs his clan to research forbidden magic in preparation for the impending apocalypse.
Books I and 2 of SERAPH OF THE END are loaded with illustrations, written by Takaya Kagami in the exciting style that fans of his manga crave, and feature great characters (some of whom appear in the manga). And watch for Book 3, coming this September!