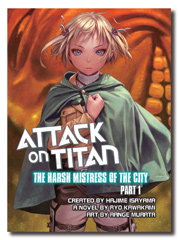 Attack on Titan: The Harsh Mistress of the City, Part 1 is the first installment of a new stand-alone story set in the days following the breach of Wall Maria and the incursion of the Titans. Everyone who was able to, has fled the Quinta District, leaving it cut off and surrounded. Those who are left behind are desperate – and desperate people will do whatever it takes to survive.
Young Garrison soldier Rita Iglehaut finds herself in charge of Quinta by default. Small in stature and totally inexperienced, she believes that the only way she can gain control of the chaos is by ruling with an iron fist. Anyone who does anything she deems disloyal or unlawful, will be dealt with unmercifully. No exceptions. As the situation becomes more dangerous, her actions get crazier and crueler.
Rita's rise to power puts her at odds with her childhood friend Mathias Kramer. Mathias had fled the District in time, but now seeks to reenter Quinta to reunite with Rita. An impulsive act on his part, however, could mean the end of their friendship – and quite possibly, his life.
The second part of The Harsh Mistress of the City, coming in September, continues the saga of Rita and Mathias, the humanity-decimating monsters they must conquer, and the terrifying world they inhabit.