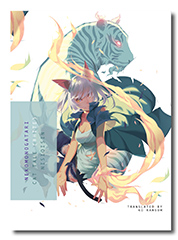 In Bakemonogatari: Monster Tale, Part 03, NISIOISIN revealed that life for bespectacled, model student, class president among class presidents Tsubasa Hanekawa was a lot more complicated than she let on. Now, NEKOMONOGATARI Cat Tale (WHITE) leads us into even murkier territory, as Hanekawa tells her own story — from her grim, lonely home life to her struggles with the darkness that has invaded her soul.
Without Araragi's usual narration, the story gives us a chance to see both fan-favorite Hanekawa and hapless loser Araragi from a totally different perspective. Is Araragi really so lame? What's he up to during the time of Hanekawa's excruciating self-vivisection? And, most importantly, what does he tell Tsubasa Hanekawa about his true feelings for her after she finally opens her heart to him?
NEKOMONOGATARI Cat Tale (WHITE) is as compelling and action-filled as the earlier books in NISIOISIN's epic Monogatari saga, but with a disturbing, emotionally-wrenching kick that will haunt readers long after the last page is turned.