It's June and now the summer is really getting started! Time for the beach, the pool, some quiet reading in the shade – and some of the best that Vertical has to offer. The month is bookended by the release of the seventh Devils' Line installment and NISEMONOGATARI Part 01, NISIOISIN'S eagerly- anticipated sequel to BAKEMONOGATARI. With Mysterious Girlfriend X 6, BLAME! 4 and Flying Witch 2 in between, every week of the month brings an exciting new Vertical adventure.
New Releases
Vampires and vampire hunters are also at the center of Devils' Line, the modern dark fantasy series that's romantic,thought-provoking, and action-packed. Book Seven finds Ishimaru, still shrouded in suspicion, leading Squad F on a raid of the CCC's hideout. But the CCC is ahead of them in this cat-and-mouse game, and things do not go according to plan. When Anzai is caught in the crossfire, Tsukasa has to make a life-or-death decision.
Romance is on the agenda as well in Mysterious Girlfriend X 6, but here the couple in question share powers – and a special bond – quite different from the vampiric variety. As the school year wraps up, so does this 6-volume series, which was the basis for the hit anime available in English from Sentai Films and Crunchyroll. In this latest installment, Tsubaki invites Urabe to join him in a special place to watch the fireworks. Urabe also comes clean to Tsubaki's sister about their relationship. And when Urabe "sees" an important event from Tsubaki's past, she makes him an offer that will bring them even closer.
The fourth Master Edition of the groundbreaking BLAME! series returns you to the dystopian future world so skillfully created by comics artist Tsutomu Nihei. In this world-to-come, machines have pushed humanity to the brink. Robots known as the "Builders" have constructed a meaningless civilization with no one to reside in it. Soon these ghost cities begin reaching out to the outer planets, and another breed of life form emerges.
Makoto's magical education continues in Flying Witch 2, the second of newcomer Chihiro Ishizuka's funny, surreal slice-of-life series. This second episode finds Makoto attending a local cherry blossom festival, where she runs into someone who has a bone to pick with her sister, Akane. Akane makes an appearance, and teaches Makoto a few new tricks for flying as well as  some easy spellcraft. Their kid cousin Chinatsu is so charmed by the witches' talents that she makes an unexpected request. Laughs, enchantment, and a taste of traditional Japanese culture combine to make this a perfect summer read!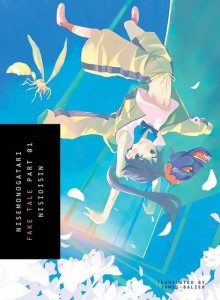 Prolific phenom NISIOISIN's legendary MONOGATARI saga continues in NISEMONOGATARI, Part 01, the follow-up to BAKEMONOGATARI. Hapless teenage vampire Koyomi Araragi is back, but this time, the action focuses on Araragi's home life and his two younger sisters. Junior high schoolers Karen and Tsukihi are known by their schoolmates as the Fire Sisters. And they're definitely balls of fire. Dedicated to defending justice, their brand of vigilantism is causing a lot of trouble – not just for the perps they're pursuing, but for themselves. . . and their brother!
Please drop by the Kodansha Comics Booth #1006 at AX. We'll be pre-selling She and Her Cat, Mobile Suit Gundam WING 1, and Nichijou 9!!
---
Future Releases:
And here is what to expect over the next few months:
Katsuyuki Sumizawa and Tomofumi Ogasawara, Mobile Suit Gundam WING: Glory of the Losers (July 2017)
Yui Tokiumi and Naoshi Arakawa, Your Lie in April (Light Novel) (July 2017)
Makoto Shinkai and Tsubasa Yamaguchi, She and Her Cat (August 2017)
NISIOISIN's NISEMONOGATARI, Part 02 (August 2017)
Mizuki Tsujimura's Anime Supremacy! (September 2017)
---
Image Copyrights – All Rights Reserved
DEVILS' LINE 7 © 2017 Ryo Hanada.  All rights reserved.; My Neighbor Seki 9 © 2016 Takuma Morishige; MYSTERIOUS GIRLFRIEND X 6 © 2017 Riichi Ueshiba.  All rights reserved.; BLAME! 4 © 2017 Tsutomu Nihei. All rights reserved.; NISEMONOGATARI PART 01 © 2008 NISIOISIN.  All rights reserved.; FLYING WITCH 2 © 2014 Chihiro Ishizuka.  All rights reserved.