M is for Monsters
Some months are full of humor and some may overflow with action, but this month a curious coincidence occurred where we are scheduled to launch two new titles with supernatural themes.  One comes in the form of a sci-fi drama, the other in a shonen action-fantasy, but both are new in Japan and causing a stir within that industry.
Along with those two debuts are a couple of beloved on-going works, and a great selection of Japanese prose to make this month on of the more memorable ones we have had in ages.
So May is panning out of be a monster! A month full of releases; literally our biggest month ever!
---
New Releases
-Vampires are commonplace in media these days. TV, movies, comics and even prose are full of supernatural tales of the immortal bloodsuckers. Ryo Hanada's Devils' Line plays with these tropes but takes it to a new level.
Tsukasa like many young people these days has heard rumors of a series of vampire murders that have occurred around Japan. But most people are skeptical, believing the murders have been sensationalized by the media for ratings.
One day, on her way home, she finds herself in the midst of a vampire and a dhampir vampire hunter. Soon she will find herself under said dhampir's protection and eventually his embrace, as he promises to cross an invisible line to watch over her in a world that is much more dangerous than previously imagined. Anzai, the dhampir, is part of a vampire related crime unit that monitors and hunts rogue vamps. And as they both will discover there are humans which hunt the hunters, as they want a world completely rid of vampires, instead!
-The Civil War is the backdrop to MAYBE's To the Abandoned Sacred Beasts but it is a new take on what a pivotal time in history. In this world, the North was vastly outnumbered, so they turned to the dark arts to create monstrous super-soldiers to give them an edge. As the war has ended, the monsters remain, and many of them have turned against humanity and it is up to Beast Hunters to eliminate this new threat.
Schaal is searching for a specific beast hunter. The hunter who took down her father. And when she finds him, she soon comes to realize that there is much more to the Sacred Beasts than what she believed. There is some humanity to them, but many of them are looking for ways to end their suffering.
–Nichijou is now a New York Times Best Seller and why wouldn't it be with mad hijinks like those seen in volume two.
Poor Yuuko! On a routine morning walk to school she greets her classmates with a pun. Unfortunately it falls flat. So in typical Yuuko form she tries another. And another! And even another! None of them work! No one laughs! Her gags are dead. She has zero chemistry… Some days nothing is punny or funny. And poor Nano finds out what her big toe does. It's a USB rocket toe… Some days it doesn't pay to be a robot.
–In What Did You Eat Yesterday 10, it is summer time and that means light easy to eat and prepare dishes for Shiro to make. His office has an excess of somen noodles, so the frugal gourmand has an opportunity to make cold noodles for himself and his friends! But it has been a while since he has gone out to cook for others and he is about to experience many life changes. Families grow around Shiro, while his remains the same. But as he will soon find out, over some watermelon, family is not only about blood relations. So his family is also about to grow!
Determination in the vein of Detective Columbo is at the core of Gaku Yakumaru's A Cop's Eyes. A former juvenile reformatory center staffer changes careers in his middle age to become a police detective. This gentle man has now have to dive head first in the cold violent underbelly of Japan's criminal world. But through the seven shorts of this collection, Detective Natsume's ability to understand the human condition will lead him to uncover a number of riddles and save the lives of many people, including one young man he met in juvie many years ago.
Shinzo Satomi's Sushi Chef: Sukiyabashi Jiro is one of the most unique reads we have published in ages. On the surface it is a looks like a cookbook. But upon closer inspection it is a fascinating deconstruction of a restaurant that has inspired a food revolution and is at the core of the movie Jiro Dreams of Sushi. Satomi goes into great detail about the ingredients used by Jiro. How the are sources and how they are eventually prepared are looked at with great scrutiny to reveal the attention and precision that Jiro has put into his seasonal menus.
This is a book for the true foodies in your life, and also their chefs. So if you cannot go to Jiro, why not read about what has made his sushi must eats for Barack Obama and gourmands from across the globe.
In the second Seraph of the End, Guren finds himself in a much better social position amongst his peers. He's now playing shogi and interacting with those who were once against him. But they have a common interest and that is what is also causing them a lot of trouble these days. Guren is going to have to confront the Thousand Nights, but something or someone is getting in his way.
---
This month Vertical will debut their new line of audiobooks. Focusing initially on popular cross media brands such as MONOGATARI and Attack on Titan, Vertical Audio is a revolutionary way to experience Japanese prose in English.
Unique to most audiobooks, Vertical's releases feature music and sound effects to enhance the reading, and create a feel that is somewhat similar to an anime experience.
Vertical Audio releases will be available for download from a wide range of sources including Audible, iTunes, Nook, Audiobooks.com, Overdrive, and others.
KIZUMONOGATARI: Wound Tale (May 25, 2016) is by NISIOISIN, arguably Japan's best-selling novelist, and is the first volume in the legendary MONOGATARI series to be translated into English.
Attack on Titan: The Harsh Mistress of the City Parts 1 & 2 (June 1, 2016) is a two-part stand-alone saga set in the days after the Wall has been breached and the marauding Titans are terrorizing humanity. The "Attack on Titan" mega-franchise is one of today's most successful pop-culture phenomena.
Note prices may vary from vendor to vendor.
---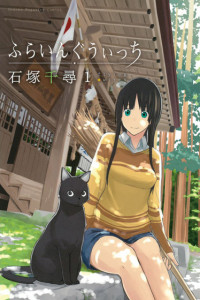 New Acquisition
Last weekend at Chicago's Anime Central, Vertical announced the acquisition of their newest manga license – Flying Witch.
Chihiro Ishizuka's slice of life comedy set in Akita, Japan, covers the day to day life of a young aspiring witch and her young relatives.
Kodansha Ltd. in Japan has currently released four volumes of this series in their monthly Bessatsu Shonen Magazine anthology. Meanwhile Crunchyroll has been streaming the Flying Witch anime produced by J.C. Staff.
Vertical will launch this thoughtful and charming comedy in 2017. Stay tuned to the Vertical newsletter for more information and preorder links.
---
Convention season is here! And the Vertical tour is already in full swing! We'll be criss-crossing the country throughout the summer selling our wares and promoting our brand of Japanese print media.
To help inform our readers and fans out there, we wanted to share our tentative convention schedule with you all.
We'll be hosting panels and events at most of these shows. And as usual, you can purchase goods and meet staff at the Vertical booth.
We look forward to seeing many of you throughout the year!
---
Future Releases:
Attack on Titan: Lost Girls (debuts June 2016)
Nocturne of Remembrance (debuts July 2016)
Immortal Hounds (debuts July 2016)
Titan conflicts and immortal consequences are at the forefront of our mid-year releases. So preorder a copy or two and prepare yourself for more high quality Vertical reads to keep you entertained over your long, warm summer days.
Image Copyrights – All Rights Reserved
Devils' Line © 2016 Ryo Hanada; To the Abandonded Sacred Beasts © 2016 MAYBE; nichijou © Keiichi Arawi 2007; What Did You Eat Yesterday? © 2016 Fumi Yoshinaga; A Cop's Eyes © 2012 Gaku Yakumaru; Sushi Chef © 1997 NAITO Shizue; Seraph of the End © 2016 Takaya Kagami; Flying Witch © Chihiro Ishizuka 2012; KIZUMONOGATARI © 2008 NISIOISIN