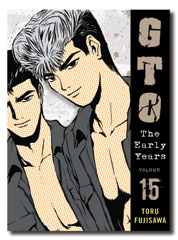 After countless street-fights and even more romantic rejections, Onizuka's last fight in Shonan is upon us in this magnificent final volume of GTO: The Early Years. How things end for Eikichi Onizuka before he starts his prolific career as the greatest teacher in all of Japan is finally revealed.
In this 15th and final volume of The Early Years, Onizuka seems to have found someone he can truly love in Misato, but is it really meant to be? At the very least, there's definitely more than meets the eye. Meanwhile, things are more than tense between Tsuji and Endo High Schools. With more than a few goof-ups from Onizuka and crew, Nakajo is finally gunning for him. This final rumble won't be one to miss, that's for sure. But wait! Is Nakajo really Eikichi Onizuka's final enemy, or is there a bigger archrival waiting for him at the end of the road? Will Shonan finally figure out who rules supreme amongst the dangerous duo known as the Oni-Baku?
The manga that launched the international phenomenon, known affectionately as GTO, comes to a comical conclusion. But really was there any other way really? After what felt like an eternity English readers can finally close this chapter in the Onizuka universe and ride off into the Shonan sunset.