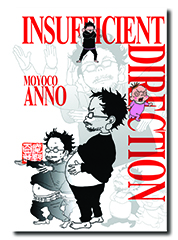 Our latest manga is a bit of an albatross in the world of translated manga. Biographical manga, while not extremely popular in Japan, has a significant place in Japan, but has been a rarity in the United States and beyond. And in the case of Moyoco Anno's Insufficient Direction this biographical comedy not only covers the famous women's comic artist but it also peels back the curtain on the life of one of anime's most well-known directors, her husband Hideaki Anno.
In Insufficient Direction Anno, Moyoco, shares with her readers a touching and hilarious look at the couple's marriage. Detailing what it is like to be engaged to one of the "top four" otaku of all time, Moyoco reveals a side of Hideaki that has not really been accessed as the director of Neon Genesis Evangelion, His and Her Circumstances and RE: Cutey Honey. In this comic, we do not see the hard working artisan with an obsessive compulsive streak, instead we see a fan of science-fiction, tokusatsu and classic anime. And as readers find out more of Hideaki, more of Moyoco is revealed as well. We see her admit to her knowledge of manga and her love of anime theme songs!
Never before have anime and manga creators been so accessible and approachable! And possibly like few biographical manga ever translated have they been this funny and smart.