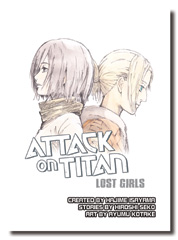 The latest light novel in the Attack on Titan epic offers a glimpse behind the tough exteriors of Mikasa and Annie, two of the original comic's most beloved characters.
In Lost Girls, a sequel to the manga, you'll discover a trio of short stories that provide insights into the personalities of these two fan favorites, and also add depth to the Titan saga as a whole. Mikasa and Annie are arguably the toughest heroines in the Titan universe. Previously, you only got to see their badass side, but now, they reveal their true thoughts and feelings, and also what went on "behind the scenes" and in between the core action of the story.
Author Hiroshi Seko writes, "…as someone with a passing relationship to Attack on Titan, my interest (and heart) is hopelessly drawn to the burdens carried by Mikasa and Annie, and at the same time to the burdens they are probably carrying, and I think I wanted to understand the youg women on a deeper level by writing about them on my own."
Two of the stories, "Lost in the Cruel World" and "Wall Sina, Goodbye," were included as "visual novels" in the bonus features of the third and sixth Blue-ray releases of the Attack on Titan anime. Seko revised them, and composed the title story, "Lost Girls," especially for this volume.