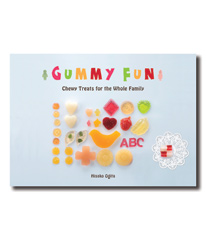 Do you ever wonder what's really in the food you buy from the store? If you don't, you should! In packaged gummy candies, for example, you'll find corn syrup, sugar, dextrose, citric acid, starch, artificial flavors, fractionated coconut oil, carnauba wax, and various artificial colors.
Doesn't sound so yummy anymore, does it?
Well, the obvious solution is to make things yourself, using ingredients you choose so you know exactly what you're putting in.
In Gummy Fun, author Hisako Ogita tells you how to create these squishy, jiggly, colorful, and cute treats at home using  what you have on hand – nothing fancy needed! If you want to use hand-pressed fruit and veggie juices go right ahead. Ogita has recipes for gummies made with oranges, lemons, carrots, or cherry tomatoes.  You can also use purées from fruits including strawberries, kiwis, blueberries, melon, and raspberries. How about green or herb tea gummies? Or ginger, shiso, or yuzu? Try adding various fillings such as adzuki beans, goji berries, chestnuts, or dried apricots.
From tools and basic ingredients to working with gelatin and agar and presenting gummies as gifts, Gummy Fun explains everything you need to know to whip up these chewy charmers and serve family and friends snacks that are both delicious and healthy.  And you'll have as much fun preparing them as eating them.
"Gummies are appealing because their texture is somewhere between the softness of jelly and the firmness of licorice and also because they come in an array of colors, fragrances and shapes. Kids and grown-ups alike love gummies. Being able to make your own gummies expands the horizons of your treat-making abilities. Plus, if you make them yourself you know there are no chemical additives, so you can enjoy them with peace of mind. Doesn't that make it worth it?"—Hisako Ogita, from the Introduction to Gummy Fun