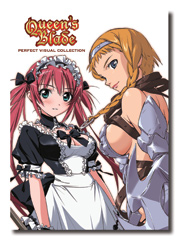 Contrary to what Peter Jackson's Tolkien adaptations may portray, more often than not the sensational worlds found within the fantasy genre are filled with many beings who are equally hideous on the outside as they are within. Monsters, whether they be goblins, ghouls or liches hide around every dark corner, waiting to prey on those who live in the light. And as more advanced games have shown, sometimes creatures can get the upper-hand by startling their opponents on appearances alone. But in our latest release, Queen's Blade: Perfect Visual Collection, while also possessing its share of evil-doers, only the fairest and the strongest can rule supreme!
Beauty overflows in this gorgeous full-color hardcover artbook by Hobby Japan. Featuring more than one-hundred pages of character art by the many original character designers from this infamous role-playing game Queen's Blade is set to unleash an alluring and sensual side to the fantasy genre. And it is that element, that has made the Queen's Blade brand such a sensation world wide. Spawning numerous games, comics and animated cable series, this Lost World module, teases and titillates fans as they cheer on their favorite warrior through their fictional life-or-death tournament. Also included, for more traditional table-top gamers, are details about the world of Queen's Blade, to make the experience engaging whether or not fans have played the original card-based RPG.
Now many have said, "beauty is in the eye of the beholder." Queen's Blade: Perfect Visual Collection is no exception to that. We understand that this might not make its way into every stocking hanging by the fire this winter. However, whether or not you've seen Risty clash against Echinda on the small screen or been battled to a critical against The Ancient Princess Menace, there is no denying the high quality of Vertical's first art book collection. We just hope this beauty will win enough of your hard earned dollars to let us try other art books in the future.