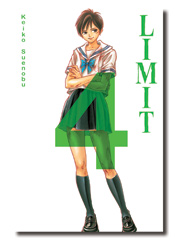 There's no better way to greet spring than with a heart-warming, flowery, and not at all threatening shoujo series. In many ways, shojo is analogous to the new year as it is full of hope and blossoming youth.
Keiko Suenobu's Limit may be shojo, but it is not as flowery. Instead this page-turner continues to be one hell of a ride as it constantly breaks down teenage relationships with an almost shocking mix of thrills and chills, akin to the harshness of winter. And volume four is by far the most enthralling yet, reaching the series' darkest depths yet with murder and corruption taking the spotlight.
One of the girls has been found dead. With no one owning up to her murder, everyone in this small group of broken survivors find themselves at odds with each other. Because all trust is lost, conflict begins to boil over into violence. And with two already not returning home, will the rest of the group be able to pull themselves together, or will even more perish in this horrific tragedy?
Limit will grip its readers and force them into a place where appearance means nothing and a strong will is necessary to survive, making them reflect on their own lives. With incredibly strong writing and tension dripping off each page, Limit still brings as unforgettable experience this far in. This new volume of Limit continues the trend of each volume as rewarding as it is depressing, make sure to add it to your shopping list through this summer.