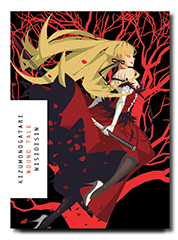 A disturbing, but titillating, rumor is making the rounds among the high school girls: a vampire has come to their small provincial town. Supposedly, she's a beautiful blond woman "with eyes so cold they make your spine freeze." And it's just a matter of time before she'll claim her first victim.
Loner Koyomi Araragi is naturally skeptical. But he's the one the bloodsucking demon calls out to for help, as Araragi heads home on the first day of his school vacation. So begins two weeks of hell involving Kissshot Acerolaorion Heartunderblade ("the iron-blooded, hot-blooded, yet cold-blooded vampire"), vampire hunters, the smartest girl in the class, a pair of panties, and the hapless Araragi.
With KIZUMONOGATARI: Wound Tale, you'll enter the mesmerizing world of best-selling author NISIOISIN's legendary Monogatari series. KIZUMONOGATARI is the prequel to Bakemonogatari ("Monster Tale") and the first in the series to be translated into English. The feature film of KIZUMONOGATARI will release in Japan in early January 2016!