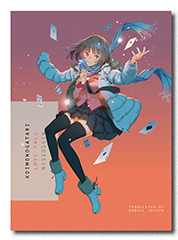 Desperate times call for desperate measures. And it's only because she's desperate that Hitagi Senjogahara enlists her former nemesis, sleaziest-of-the-sleazy con man Deishu Kaiki, to use his questionable skills to thwart Nadeko Sengoku.
Nadeko Sengoku. Super-cute, super-shy middle-schooler whose disastrous mishap with snakes was chronicled in Otorimonogatari. Now, in KOIMONOGATARI: Love Tale, Sengoku is a deity, a serpent god. No longer self-effacing and timid, hiding behind her long bangs. As a matter of fact, all the hair on her head has been replaced by fearsome white snakes.
And why is Senjogahara so anxious for Kaiki's help that she'll even pay him? Because Sengoku intends to kill her, along with her boyfriend, Koyomi Araragi, in 74 days, right after their high school graduation ceremony!
KOIMONOGATARI, the finale to Season Two of the Monogatari series, is itself an aberration; it's the first of these stories not to be told from the point of view of one of the main young cast members. This time, Kaiki is the narrator, and therefore, the first grown-up to tell the tale. But to assume that this shameless swindler and prevaricator is a reliable narrator just because of his age is a miscalculation. What is the truth, and who can be trusted? Is Kaiki actually in control of the con? Or is he himself being played for a fool?